i was worried about the logistics of getting back to finland. soviet bureaucracy being what it was, i was not allowed to buy a train ticket in petrozavodsk for my return to helsinki; i could only buy a ticket for the first leg of the trip--the train from petrozavodsk to leningrad.

one of the american finns translated for me, as the woman at the travel office explained the rules: once back in leningrad, i must return to the Hotel Moskva, where i had stayed my first night in russia. the tourist office at the hotel would sell me a ticket to helsinki. that was the only place i could get a ticket.

then i had to find the Finland Station, which was a different train station than the one I would arrive at.

i had about a two-hour window. if i missed my connection, i'd be in deep trouble because my visa expired that night.

i don't speak russian. i don't read russian. i wasn't sure how i was going to do this.

i worried. i got on the train and worried about all of the impossible tasks ahead of me. i remember little about the return trip to leningrad, except that i worried the whole way.

i climbed down from the train in leningrad, my very american-looking purple and black nylon duffle bag in hand, and hailed a taxi. "hotel moskva," i said. the driver looked at me. he said something, i don't know what. i repeated, with something like desperation: "hotel moskva."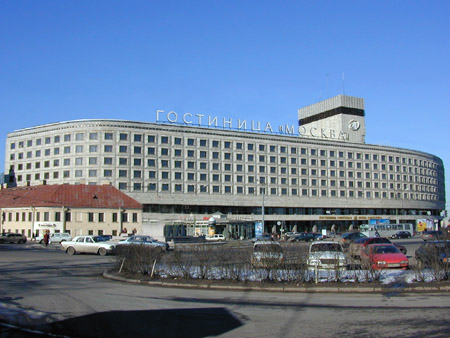 miraculously, he understood and took me there. i did my best to indicate that i needed him to wait for me. i gave him a package of Marlboros and dashed into the hotel. i ran down the hallway, somehow found the tourist office, pushed open the door. it was packed with people. and the ticket window was closed.

my visa, my visa...i needed to get to finland.

the window opened. a woman looked out and said, in russian, and then in halting english, that the tourist office would open in one half-hour. the window slammed shut again.

the waiting people didn't move. they lounged against the wall, on chairs, in the doorway. they looked as though they had already been there for a long time. i paced.

i must not miss that train.

i watched the minutes tick past. i ran back out to the parking lot and found my cab. he was patiently waiting. i waved.

back inside, the hour ticked past the promised opening time. the window remained closed. i don't know what possessed me, but i boldly opened the door to the back room and poked my head in. they were drinking tea. "i need to get a ticket!" i said. they hollered at me in russian, and i closed the door.

finally, the window opened. the waiting travelers surged forward. there was no line, just chaos. the crowd smelled of sweat. i pushed and pushed and elbowed my way to the front. i ordered my ticket, which the agent painstakingly wrote out in longhand. i paid her, grabbed the ticket, and fled.

"finland station! finland station!" i gasped to the cabbie. i showed him my ticket and hoped he understood.


he took me to the station and dumped me unceremoniously at the curb. i hauled out my duffle bag and my faithful drab green drawstring bag that i had carried on trips for many years. poking out of the top of the drawstring were the bristles of a russian broom that i had bought the day before in the petrozavodsk marketplace. i paid the cabbie and tossed a couple of packages of Marlboros on the front seat of the cab, and he pulled away so fast he almost ran over my foot.

and then, panting and sweating, i wondered what to do next.

at that moment, a man approached. he was tall and well-dressed, with expensive-looking snakeskin cowboy boots. he said, "Do you need a porter?"

i looked at him. my first impulse was to say no. i had never hired a porter in my life, but had schlepped my bags on and off of trains in russia, in finland, in yugoslavia, in germany, in holland. i had almost no money left. but then i felt something crumple inside of me. i think it was relief mingled with exhaustion. and i said, almost recklessly "Yes."

he picked up my dufflel bag and moved three steps forward. and then he stopped and set my bag down again. "we wait," he said.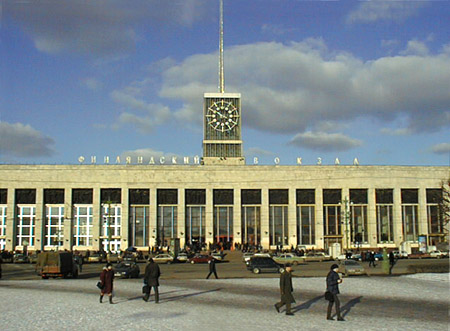 i stood at his side, watching the people rush in and out of the station. we were standing on the sidewalk in front of a long, windowed concrete building. it had a tall tower at the center, with an enormous clock. i watched the minutes tick by. the stranger made no sign of moving. he didn't speak.

i shifted my feet nervously. he looked down at me and said, in tones of great calm, "we wait."

i put my hand into my pocket and fingered the last few notes of russian money i had. what would a porter charge, anyway? what would be an appropriate tip? i was almost out of money. and i still had three days in finland. people rushed past. the clock ticked. the man didn't move. he looked straight ahead.

after some time, he picked up my duffle bag and started walking briskly toward the tracks. i hitched up my drawstring bag--the broom bristles scratched the side of my neck--and trotted after him. he had asked no questions--not where was i going, or what train was i on, or anything. he just seemed, somehow, to know.

he walked halfway down the tracks, and then set down my duffle bag. there was a knot of people gathered two tracks down, where a train was idling, and i wondered if i was supposed to be at that track, if that were my train. i looked at the man anxiously. he said, "we wait."

after awhile the knot of people began to board, and i nervously picked up my duffle bag. the man held up his hand to stop me, so i set it down again. there was nobody else at our track.

after a long while a train chugged in on our track, and i watched as the people got off. dozens streamed out of the station and began to board. the stranger did not move. when i looked at him, he smiled. after awhile, he said, "your ticket, please," and i handed it to him. the ticket was written in ink in a careful hand on rough beige paper. he took it and said, "wait here."

he walked down the tracks and handed it to the babushka who waited by the train. they spoke, and then he walked back, picked up my duffle bag, and said, "follow me."

by now i was fingering every ruble i had in my pockets. would he expect a huge tip? after all, he got me to the train, read my ticket, negotiated the babushka--it was worth my remaining 40 rubles and all of my remaining marlboros. i followed him down the train corridor. he pushed open a compartment door and put my bag on the shelf above my head.

then he turned and walked out of my compartment. i poked my head out of the doorway. "wait! wait!" i said, and he turned and looked at me. foolishly, i held up my hands. i clutched ruble notes in one, packages of marlboros in the other.

the man in the snakeskin boots smiled gently and shook his head.

he said, "have a good trip," and walked away.

A note on photos: These are all google images except, of course, the picture of my broom. The top picture is the monument to Lenin in Petrozavodsk. Below it is a picture of the Hotel Moskva. And the last picture is Finland Station.

*****UPDATE*****

i think i have to note here that the mysterious stranger was not a kind angel. he was almost certainly a KGB agent who had been tasked with making sure i got out of the country. the soviets did not allow americans--especially journalists--to wander the country unwatched, and they had no wish for me to miss my train and have what would have been complicated visa problems. i was grateful for the man's help, and he was certainly very courteous, but he was not helping me out of the goodness of his heart. it was his job.