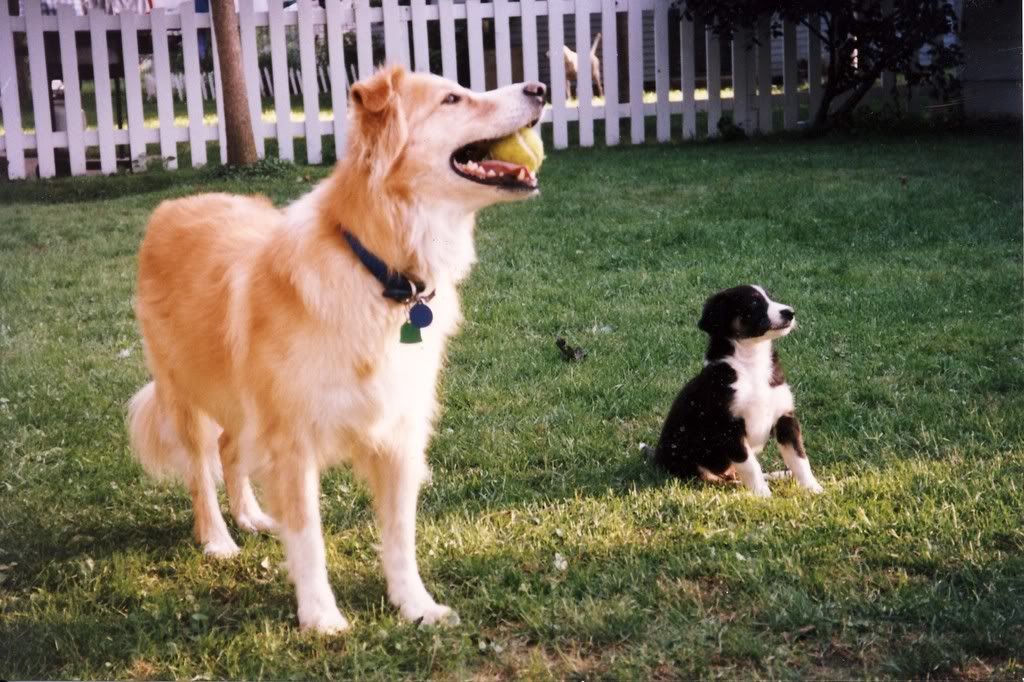 Before we bought our house, we lived in a cramped duplex on front street and walked toby to como park every day. our route took us past a small house with a fenced front yard where an english springer spaniel lived. toby hated that dog. he was just an ordinary springer, with brown and white markings and slightly wavy hair. but toby wanted to kill him. i think he reminded toby of john myers' old springer, charlie, who i used to take care of occasionally when i lived in duluth.

charlie was a great old hunting dog, but he was pretty deaf, and he was getting a little bit daffy. the first time he stayed with toby and me he toddled around the living room in his stiff-legged, old-dog way, sniffed everything, and then lifted a leg on my fireplace.

toby was appalled. i think he hated all springers from that moment on.

so we named the springer in our neighborhood "the charlie dog," and we held extra tight to the leash when we walked past on our way to the park. toby would run as close to the fence as he could get, and the charlie dog would go nose to nose with
him, and they would bark and bark and bark and bark and bark until we could drag toby away and down the block.

after a few months we moved to a house in the park, and we no longer had cause to walk past the charlie dog's house. I forgot about him. but toby didn't.

boscoe joined our family that Labor Day weekend. he was so lovable and cute that toby got a little jealous, and i got a little jealous, too, on toby's behalf. i tried to give toby extra attention, but it was tough with boscoe, the Master of Self-Esteem, pushing his way between us and looking so winsome.

boscoe had this cunning trick of escaping from the back yard by squeezing under the fence, and then trotting around to the front of the house and sitting patiently on the front steps, waiting for us to find him. he never went any farther than the front yard.

even though boscoe was really doug's dog, i went along for his vet visits. so one bright september day we put toby in the back yard and then slipped out the front with boscoe. when we got home an hour later, the back yard was empty. the side gate--the one we never used--was open. oh my god, toby was gone.

i was devastated. i didn't know where to look first--the park? the lake? all the back yards of all of the neighbors? we'd only been in this house for a couple of months, and i worried that toby would have no idea how to get home. and i was really worried about him getting hit by a car; our house was only three blocks from very busy lexington parkway.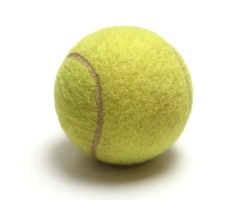 we agreed to split up. doug set off in the car, and i took off at a dead run into the park. i ran through the grassy area where we played tennis ball fetch. no toby. i ran down to the lake. no toby. i ran over to the athletic fields, where we had gotten a ticket for having toby off-leash one hot fourth of july morning. the park ranger was driving a little go-kart and wore mirrored sunglasses, just like the guys on CHIPS, and he jumped the curb and drove up to us and accused doug of calling him a bastard. no toby.

i was out of breath and choking back sobs when i staggered back home. i didn't know how i was going to get along without my dog. for six years, i'd been with toby almost constantly. he slept on my bed in duluth. he rode shotgun when i drove down to the cities for visits, and once he peed on a million-dollar installation at the Sculpture Garden, horrifying my little brother. he barked at a bear in my back yard, and he barked at my mother when she pulled on her fur-trimmed hood, assuming, i think, that she was a bear. and now he was gone.



i dragged myself in the front door and called doug's name. i sniffed the air. hamburgers? he's making hamburgers? at a time like this?

i walked through the kitchen and out the back door. there were doug, boscoe and toby, grilling burgers. where did you find him? i asked, racing over to toby, who grinned at me and wagged his tail.

it was easy, doug said. he had gotten in his car and driven directly to the charlie dog's house, where he found the two dogs going nose-to-nose along the fence. he opened the car door, toby hopped in, and they went home and started dinner.

but how did you know that's where he'd be? i asked.

easy, doug said. you just have to think like a dog.