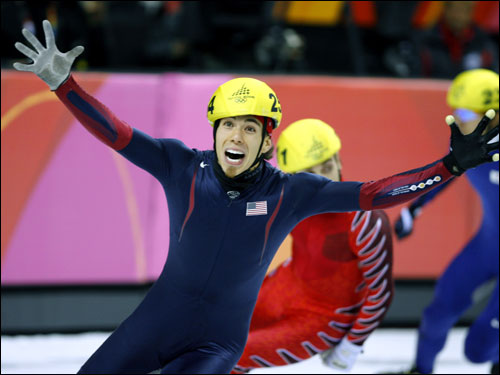 riley has the most powerful back legs i've ever seen on a dog that isn't a greyhound. when he was a puppy, his back end was all out of proportion to the rest of him--big muscular thighs, like apolo anton ohno. we used to call him "speed-skater butt" when we walked him. you couldn't help but be impressed.

eventually the rest of him grew into his back end. but it remained powerful. that dog can launch himself like nobody's business; he practically levitates. he goes from standing stock-still to suddenly being on the bed. or on top of a wall. his favorite thing to do is to run up the sides of trees after squirrels, trying to get them where they live: in the treetops.

generally what he does is this: we let him out the back door. he pauses at the top of the stoop, surveys the yard, and then launches himself off the top step, using that momentum to run right up the side of the tree. he can run higher than doug's head, and doug is 6'4". it's astounding. he does this sometimes in the park when we're walking him. i've known joggers to stop jogging and stare, open-mouthed.


in this picture, he's on his way up. i think he looks a little like a pileated woodpecker clinging to the side, but he's not clinging; he's zooming. you can see the mud around the base of the tree; once he reaches the apogee, he just falls back to the ground and immediately starts digging.

one time he got stuck; he had launched himself up the side of a big old red pine and somehow landed on a branch. and there he stood, like some kind of awkward bird, until we lifted him down.

despite his prowess, i don't think he's ever killed a squirrel in a tree. but he has killed squirrels on the ground, more than once.

the first time this happened was the day i was headed to duluth for kristin's funeral. riley was not quite two years old. i had taken him and boscoe to the dog park to let them run and to give me something fun and lively to look at before the long sad drive north. they zipped through the woods and down to the marsh, getting mucky and muddy and wet. it felt good to watch them run and play; it was one of those meaningless but important reminders that there is still a lot of happiness in the world, even in times of great sadness.

i tossed them in the back of the Subaru--the car i bought because i had loved driving kristin's subie all those times i went out to california when she was sick--and drove home. i left the boys in the backyard while i went in to pack, and when i looked out the kitchen window a little later, i saw riley standing very still, staring at a motionless dark object on the ground. it was a squirrel. an almost-dead squirrel. i can only assume that he had grabbed it, somehow, as it went flying past him. squirrels, while agile, do not always make the best decisions, and i have seen them race for the fence (which would save them) only to suddenly turn and zoom back toward the tree. if riley is between them and the tree, too bad for them.


i went out in the yard. riley looked at me, looked at the squirrel. he seemed astounded by what he had done, amazed and baffled that the squirrel wasn't getting up so he could chase it again. i knew that i should kill it and put it out of its misery--it was twitching, just a little--but i couldn't. i just couldn't. what would i do? hit it with a shovel? smash its little head with a rock? i didn't have it in me. and i know how cowardly that was.

i went into the garage and got a shovel and picked up the squirrel and dumped it over the fence into the alley. i think it was dead by the time it hit the pavement.

then i went back in the house and finished packing, got in the car and drove to duluth. doug said later that for days after that, he could hear riley singing quietly to himself whenever he went out into the yard: "bad to the bone...... b-b-b-b-b-bad to the bone...." but i think he was singing "psycho killer, Qu'est-ce que c'est..."