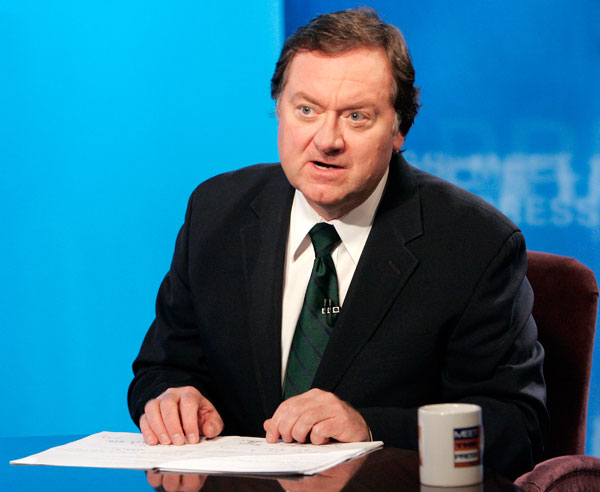 I bet you were all as shocked as I was to hear that Tim Russert died suddenly today. (And at work, too--how sad is that? When I go, I want it to be just as I'm unpacking after a really great vacation.)

You might love him for his simple, low-tech whiteboard.

Or you might love him for his comfortable, avuncular face and his sharp-as-a-tack mind. Or for his challenging questions but great sense of humor on "Meet the Press."

I love him for all that, too. But I also love him for taking on the New York Times Magazine, Deborah Solomon, and the complicated world of the simple Q&A.

Now, I have absolutely no problem with the New York Times Magazine. I love it, and I read it most Sundays. But Solomon's Q&As have long struck me as, well, too brilliant. I used to be jealous of them, but I gradually stopped trusting them.

They are great reading, but I am always left to wonder how it is that she has such sparking, witty interviews with people--interviews that read like the cleverest of exchanges between two equally swift and brilliant minds.

As Clark Hoyt, the Times' ombudsman, put it last year, reading her Q&As "is like crashing an exclusive book party at Tina Brown's East Side garden apartment."

Well, it turns out that those interviews actually weren't quite like that. The Q&As were boiled down to 700 words from hours-long interviews of thousands and thousands of words. Boiled down and rearranged in a way that made them only seem like you were eavesdropping on the most charming and witty conversations.

Great reading. But perhaps not exactly honest journalism.

All this might have gone unnoticed if not for Tim Russert, two years ago.

Solomon interviewed him for the May 14, 2006, issue of the magazine. That was Mother's Day.

But Russert had just published a book about his father, and so when you read the interview, it is all about his father--perhaps an odd choice, for Mother's Day. (That was even the headline: "All About My Father.")

Russert sure thought so.

And he said so. In a blistering letter to the Times.

He called the Q&A "misleading, callous and hurtful." He said that this was his first Mother's Day without his mother, and that he had agreed to the interview because Solomon said it would be a Mother's Day feature.

He said they spent most of the time talking about his mom, and he told Solomon the strong influence his mother had been on him--how he wasn't allowed to eat dinner until he'd done his homework, and she had corrected it. How she had taught him "discipline, accountability, and preparation"--all crucial for his future career.

And then to open up the magazine on Mother's Day and find that the piece was called "All About My Father"--as though he wasn't thinking about his mother, he said, made the day even more painful.

It was a great letter.

And it made a difference.

Solomon still writes these great, witty Q&As that make you feel as though you're standing next to Robert Benchley and S.J. Perlman, sipping champagne.

But the feature now runs with a small, discreet disclaimer: "Interview conducted, condensed, and edited by Deborah Solomon."

Ah. I feel better. That's really all I wanted--transparency.

Thank you, Tim Russert. And godspeed.