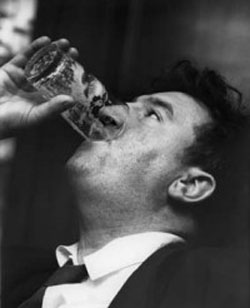 You might think I've milked that Ireland trip for every story I could tell, but you would be wrong. I could go on and on and on (and often do).
Hiking to James Joyce's Martello tower? Taking the 1916 Rebellion Walking Tour? (Just in case the posting on Kilmainham Gaol hadn't depressed you enough.) Encountering the friendly man in Blackrock who wanted to tell us everything he knew about his town? Touring Christchurch Cathedral one day, St. Patrick's another? (And did you know that in Christchurch they have someone's
heart
on display? Truly; it's one of the holy relics.) Yep; I could go on and on.
But I will tell you one just more story--about the Literary Pub Crawl, because it was interesting, and because the guy who gave the tour is a friend of Babaloo's--and then I will quietly shut the computer and write no more about Ireland (until the next visit). Otherwise I'd have to change the name of this blog to something like "A Wee Bit o' Green" or something, and that would be hokey.
The first thing we did was gather at the Duke Pub just off of Grafton Street to wait for the tour to begin. The second thing we did was order a couple of pints, because we had arrived early. And the third thing we did was suddenly shriek, plow through our purse (my purse, actually) and tear through all of our pockets and then come to the sad conclusion that I, the journalist, had forgotten my pen. I could not take notes.
So you will have to trust my memory on this.
The nice man who took the tickets in his low-key way led us into an upstairs room of the Duke, whipped out a bowler hat, and suddenly turned into one of the characters from "Waiting for Godot." He and a second man performed one of the scenes ("He's not coming, I know he's not coming...") and then removed the hats and became ordinary people once again.
From there, it was on to Trinity College, and then from pub to pub to pub, where he'd tell us about writers who drank there (depending on the pub, Flann O'Brien, Brendan Behan--wait, that was all the pubs--James Joyce, Eavann Boland, and since I forgot my pen you'll just have to guess at the rest). 
He'd tell some great little story or another--about Brendan Behan's father in law, for example, who painted the murals inside Davy Byrne's, a pub that is also known for its appearance in "Ulysses" as the place where Leopold Bloom ordered his cheese sandwich--or maybe recite some poetry, or perform a quick scene, or sing a song, and then he'd ask us a quiz question.We were not to answer then, but at the end of the tour, when we had the chance of winning either a tshirt or a small bottle of whiskey.
The answers to all the quiz questions could be found along the tour, if you were paying attention, but hell, we were all drinking, and it was hard to pay attention, and, as I mentioned,
I'd forgotten my pen
. So even if I figured out the answer (as I did, more than once) chances were I'd forget it before we got to the last stop (as I did).
We were supposed to spend 20 minutes in each pub--enough time for a glass, not a pint, as far as I was concerned, but others on the tour were more diligent--but at the first pub stop everyone lingered and he had to go back and round us up, and after that he took to ringing a bell as a signal that the tour was moving on.
Of course, a bell is also the sound you hear when the publican calls Time! and so it tended to upset everyone else in the pub.
Our last stop was Davy Byrne's, which is where he asked us all the quiz questions, and I failed to win the tshirt or the whiskey, but that was fine; first prize went to a dark horse of a woman who looked like someone's elderly aunt and who had clearly been paying attention, not drinking, and
taking notes.
The whole thing was great fun, but it didn't get over until after 10:30, and all the pubs and restaurants had stopped serving food and we had had no dinner.  So we walked the twenty minutes back to our hotel along the Grand Canal, hungry and a little drunk (this might have been our "Let's Not Even Go to Raleigh" moment), and asked at the front desk if it would be at all possible to order room service.
"Certainly," the receptionist said. "And what would you like?"
I was used to looking at a menu in such circumstances, but no menu was to be had; she suggested we just order whatever we wanted and see what showed up.  So we ordered hot grilled chicken paninis, and what showed up twenty minutes later was cold chicken sandwiches on white bread with shredded cheese sprinkled on top--hands down the weirdest meal we had on the trip.  But it filled us up and soaked up enough of the Guinness that we were able to get to sleep.