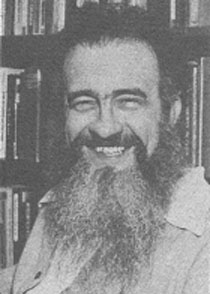 It was Doug who pointed out the obituary in this morning's newspaper--W.D. Snodgrass, the Pulitzer Prize-winning poet, died last week of lung cancer. He had been sick only for a couple of months.

This makes me sad. I don't pretend that I knew him, but I met him back when I was a child, during that difficult and unhappy summer of 1966, when I was nine. He came to Duluth with Camille, who eventually became his third wife, and their Russian wolfhound, Vanya. My father had brought him in to talk to his university class; Snodgrass had won the Pulitzer Prize just six years before. My brother had died earlier that summer, and I remember De's visit as being a happy interlude in all that sadness. I remember him sitting in our living room, a tall bearded man who smelled of pipe smoke (did he smoke a pipe? Or am I imagining that memory?), talking and talking and talking with my father in a loud booming voice, and laughing a loud great laugh, while Camille sat quietly, petting Vanya's head.

I have written about it here and here, though those posts focus more on Camille than on De.

De was a giant of a man, a poet who sort of wrested poetry from the ethereal to the personal. "It's hard to believe that at one time it was quite improper to write about your personal relationships," he said in a 2004 interview. "Poets were supposed to be above human life. I finally decided to write about what I really cared about, and what I really cared about was having my daughter ripped away from me." (His first collection of poetry sprang from the loss of his daughter in a divorce.)

Here is one of his poems:


FARM KIDS
Our neighbor's slim rag doll of a daughter (not,
we're told, of his own getting) breathed out: "You've got
so many cookbooks!" – each eye a startled O
as it skimmed our kitchen shelves – "And so
much food!" Later, straight-faced, she said her mother
lives now with her new boyfriend in another
county. Hard up for farm jobs, her "Dad" has to drive
60 miles to the factory, getting up at 5
AM to leave them where his folks watch after them
until he gets back home – sometimes 5 PM.
We go for long walks every evening. If we pass
their trailer, they all tumble out shouting, "Snodgrass!
Snodgrass!" The slim, straight-faced one is thought slow
by her teachers. There's much she'd do well not to know.
The cool offspring of our city friends are driven
to special schools, sports dates, parties, given
phones, computers, cars, the insatiate stuff
that will guarantee they can't ever get enough.
Our neighbors' less keen hungers and kinder drives
make sure they'll make nothing of their lives but lives.