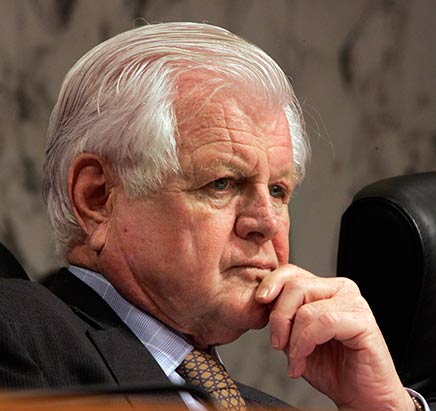 And now the brain tumor that killed my father has killed Teddy Kennedy.
Not the self-same tumor--though it might feel like it at times, there is not one single evil tumor that roams the world, seeking out strong athletic elderly men who love the sun and love life, and killing them. But the same kind of tumor, glioblastoma multiforme.
My father lived 18 months with his tumor. Kennedy, for all the best health care that money can buy, lived not quite that long, May 2008 to August 2009. In between diagnosis and death, he did a little sailing, did some work, made those last few months count.
I've written here before about my father. His job was not as important as Kennedy's, not as lofty, but he was another man who loved life, loved the sun, loved to move and to think. He played two sets of tennis the day before his first brain surgery, and while he was never able to play tennis again, he had hope; his first surgery was in October 2002 and the following spring he was feeling well enough to renew his membership at the tennis club. A month later, though, his symptoms began to return and he had a second surgery in July. He did not recover as well from that one.
But I do admire them, these old men who don't quit. Kennedy delivered that amazing speech at the Democratic National Convention. He continued to serve in the Senate as long as possible. He continued to push hard for health care reform, "the cause of my life," he said.
After my father's diagnosis, he continued to read avidly, he wrote until aphasia set in. He walked the Lakewalk, five miles, nearly every day.
It's hard for me not to think about Kennedy's last weeks, to wish I knew details, to wish I could compare them to what my father went through. My father died on a bitter night in January during a brutal, cold winter. I might have told this story before. I had been in Duluth for nearly two weeks, helping my mother, caring for my father. Siblings came and went during that time; we all tried to rotate through as much as our work schedules would allow it.
On a Monday afternoon, right after a snowstorm, I got ready to leave. My plan was to come back that Thursday, but I needed a few days back at work and at home.
My father had not been able to speak for a week; he garbled his words and got frustrated. We spent a lot of time guessing what he meant. But his eyes were just as bright, just as knowing as they had always been. He watched me while I pulled on my boots, wound my scarf around my neck, picked up my car keys. I walked over to where he lay on that hated hospital bed in the warm living room, and as I approached, he grabbed my hand. He looked right at me, intently.
"Goodbye goodbye goodbye," he said, and then he pushed me away.
I drove back to the Cities that Monday afternoon and he died Wednesday night.
Whatever else he went through, whatever else happened those last weeks and days, I hope that Teddy Kennedy also got the chance to say goodbye.